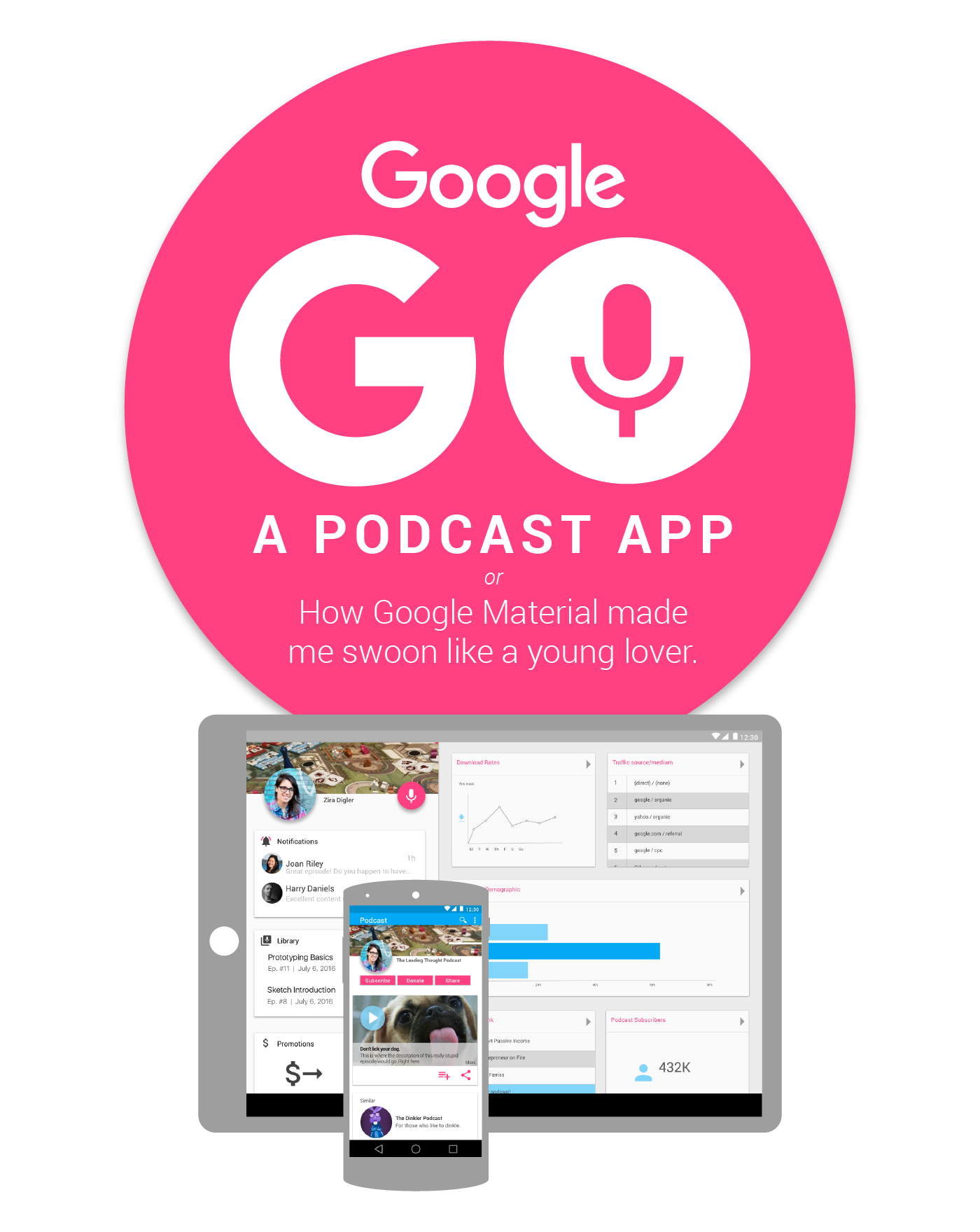 Google, our great overlord, has not created a viable podcast app. Our team put together a legitimate solution that fits in the current trend of Google's app platform. Looking closely at YouTube we developed a way for content creators to easily monetize their podcasts and accurately market their work.
Problem
There is a steep learning curve for budding podcasters. There are so many things to keep track of: equipment, marketing, content, distribution, sponsors, etc. Even the experienced podcaster (caster?) has hoops to jump through. Google is in a great position to help alleviate a lot of these pains.
Solution
Looking to Youtube for inspiration, we have found a sustainable way to meet both the product owner's (Google's) needs as well as the content creator's. This can be done by utilizing Google's existing strengths of analytics, content and promotion management, and similar interest algorithms.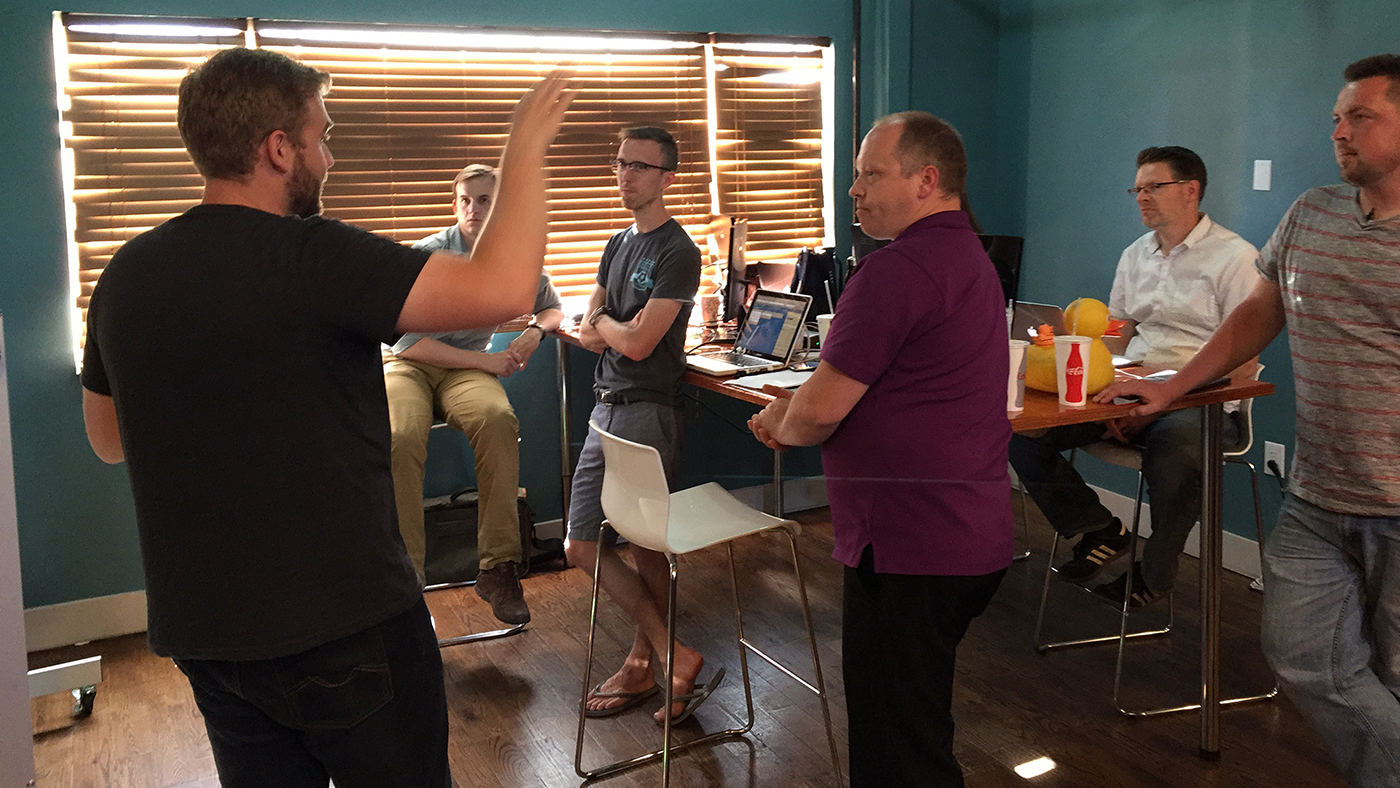 Research
Through interviews with both content creators and consumers, we were able to pinpoint common pains. One major one was the need for external validation. In order for the creator to be motivated, there needed to be acknowledgment from external sources.
Another big pain was the need for sponsors. Podcasting is a HUGE investment of time and money. Sponsors can help alleviate a lot of that. Finding a sponsor is especially difficult for beginner podcasters until they find their audience. Replicating Google's existing ad platform on YouTube, podcasters can start early on earning a revenue.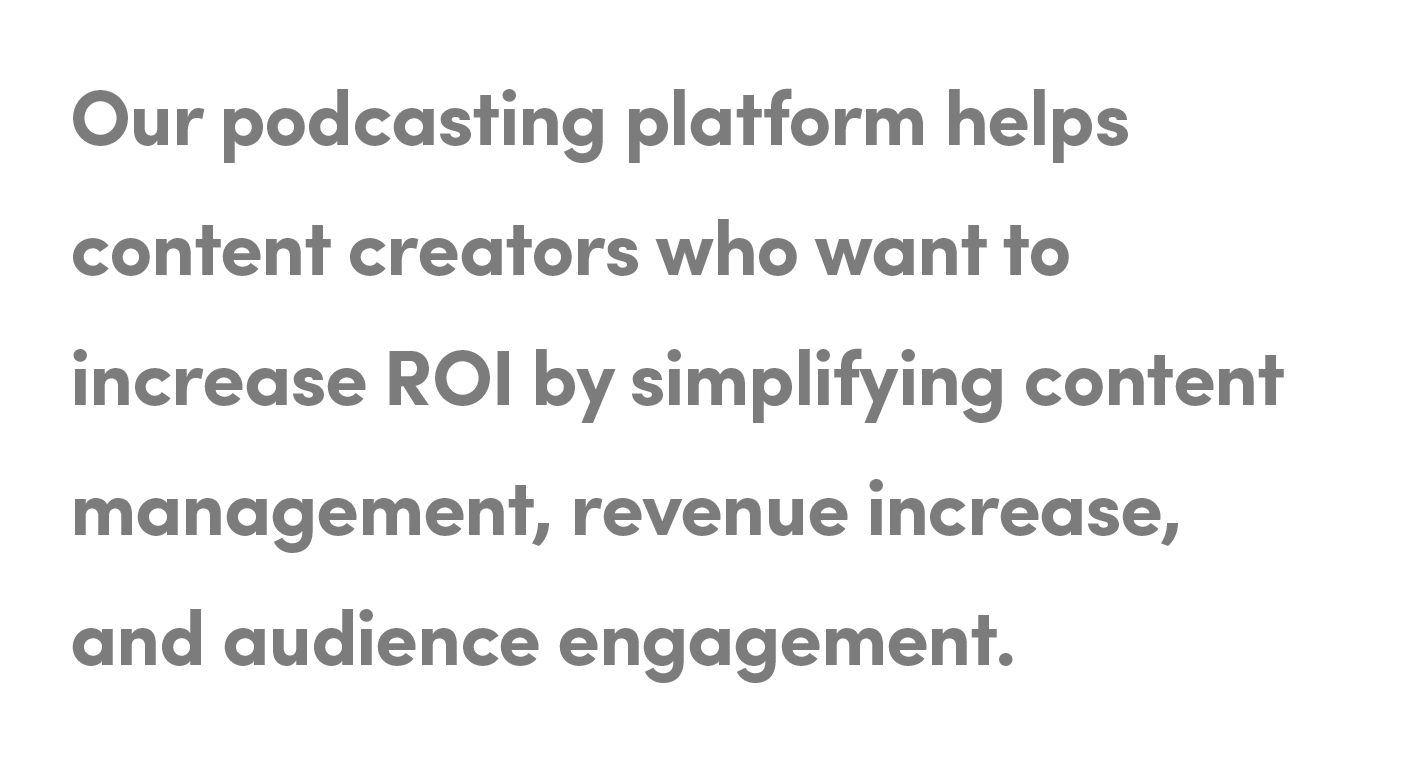 Challenge
How do you make an app that benefits both content creators and consumers? How do you balance what the app emphasizes?
We had to draw the line somewhere. While the app can't help a lot with the actual creation of a podcast, we leaned toward focusing on managing already created content. We included some basic editing tools for those who needed a quick solution. However, we knew that the more serious creators would already have a polished product ready for upload. We focused more on robust analytics (Google's forte), strong social tools, and accessible interface.
User Profiles
We used two specific personas to represent podcast creators. One focusing on an established creator, and one for the aspiring creator.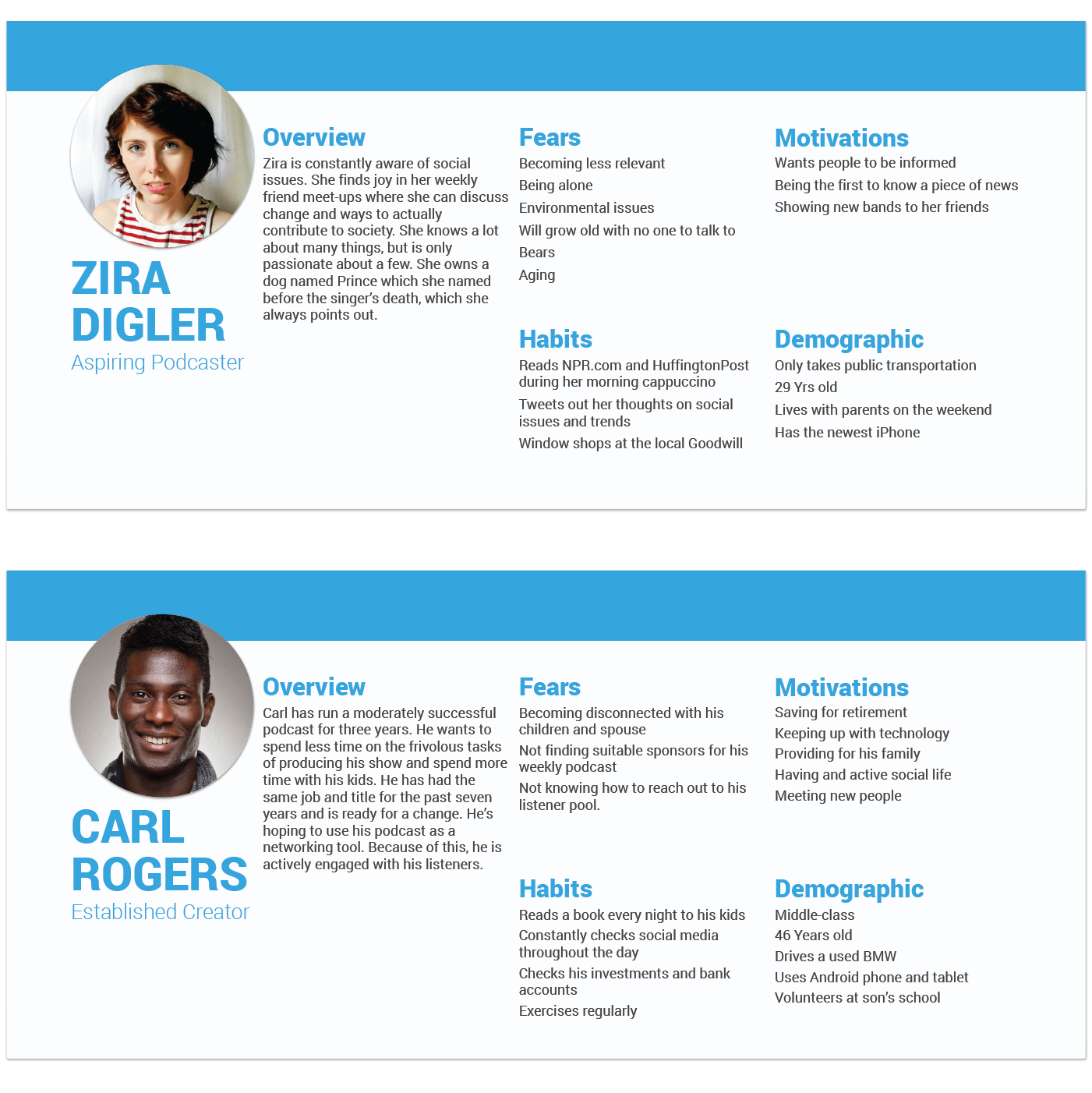 Execution
The process became really important when fleshing all this out.
Affinity Mapping
Taking the information we gleaned from interviews, we started to identify common pains from both listeners and content creators. This helped reign in our feature list so we could focus on those that would actually be used.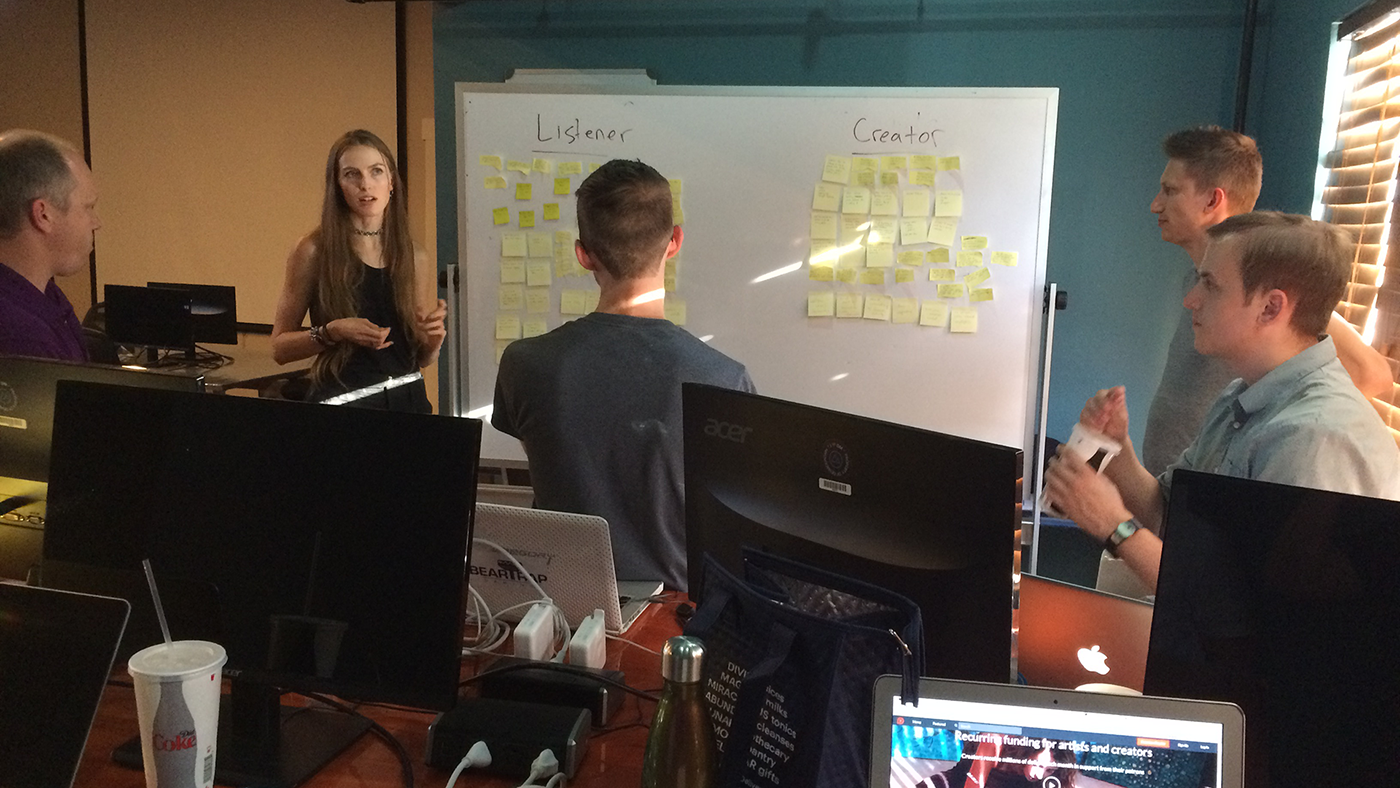 One common thread we found was that finding a sponsor became really challenging until the podcast really took off. This lead to giving up on the podcast prematurely. Making advertising relatively easier for the content creator help squash this pain.

Site Map
This is where things got real. We started mapping everything out that we wanted in the app. This ended up evolving as the project went along as it became clearer how things needed to fit together.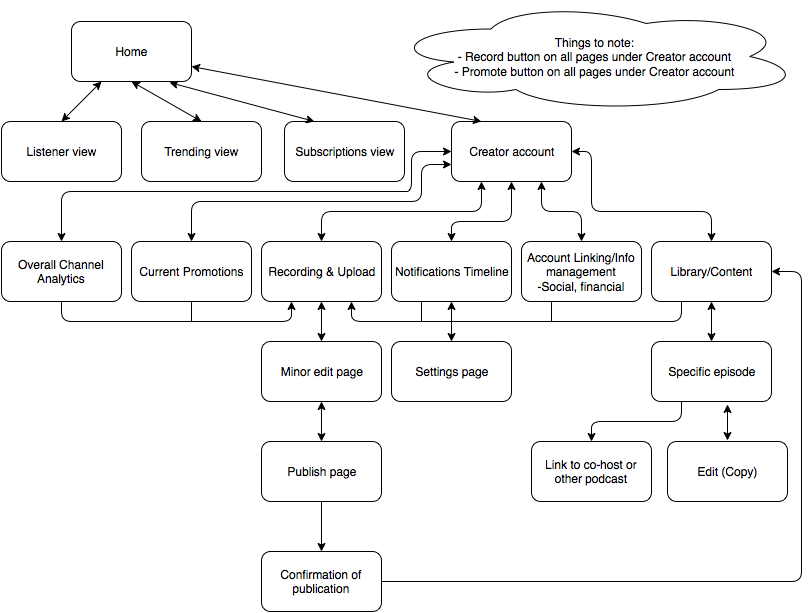 Design Studio
When deciding what features to include, a design studio helped direct us on the right path. We quickly identified possible solutions to user pains. We wanted to make sure the app was easy to use while still having a robust offering of features.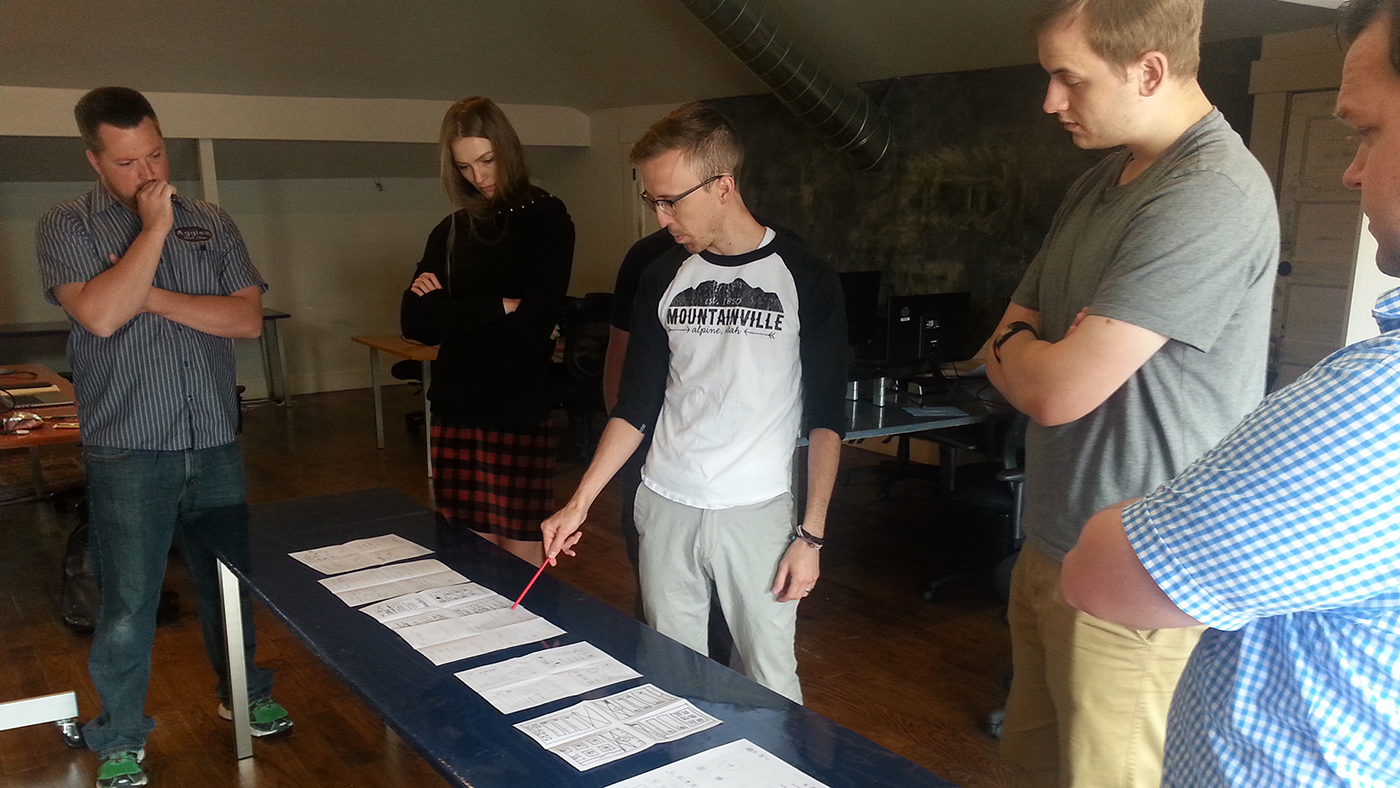 Sketches
Using digital tools to sketch really helped me weed out the weaker ideas. It's really easy to overstuff a product with unnecessary features.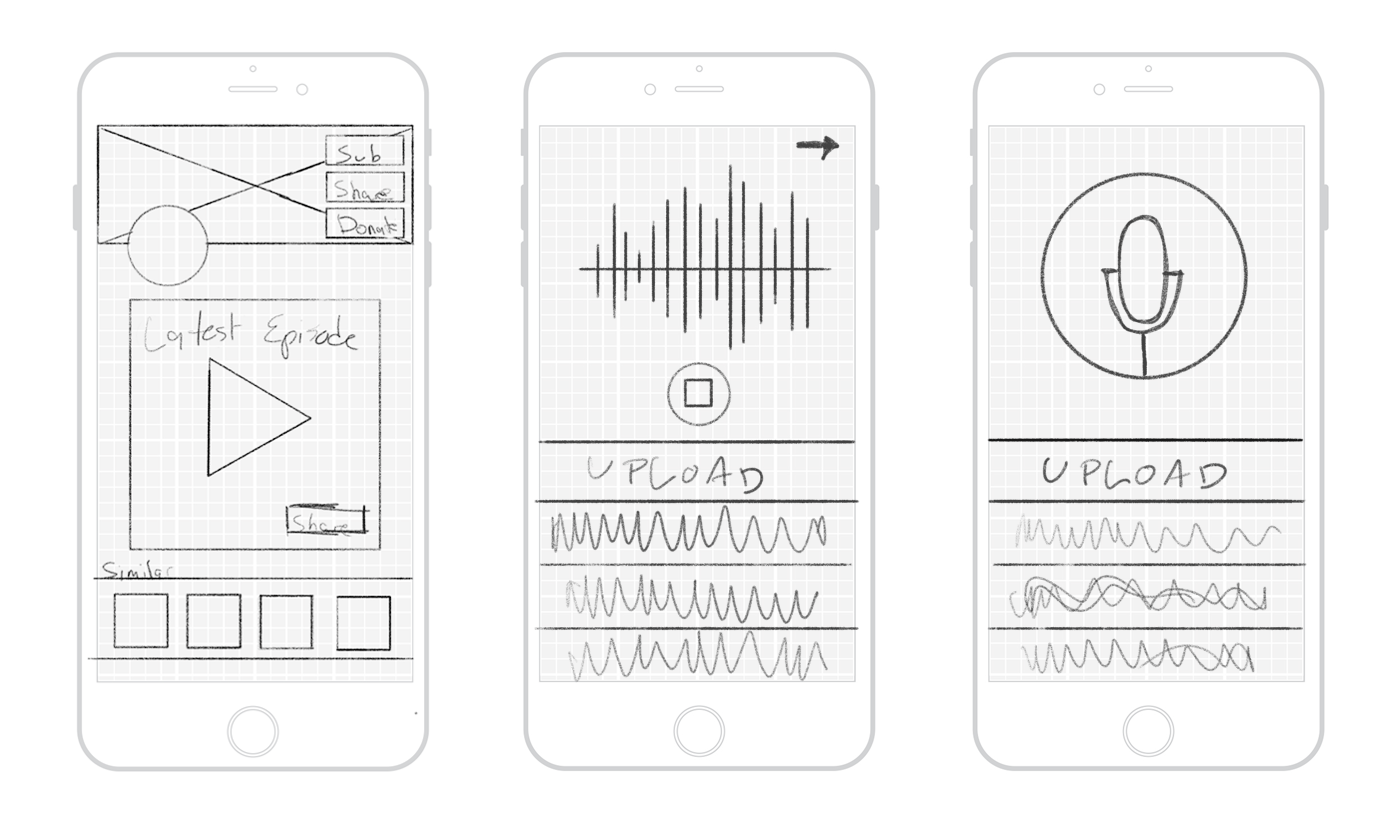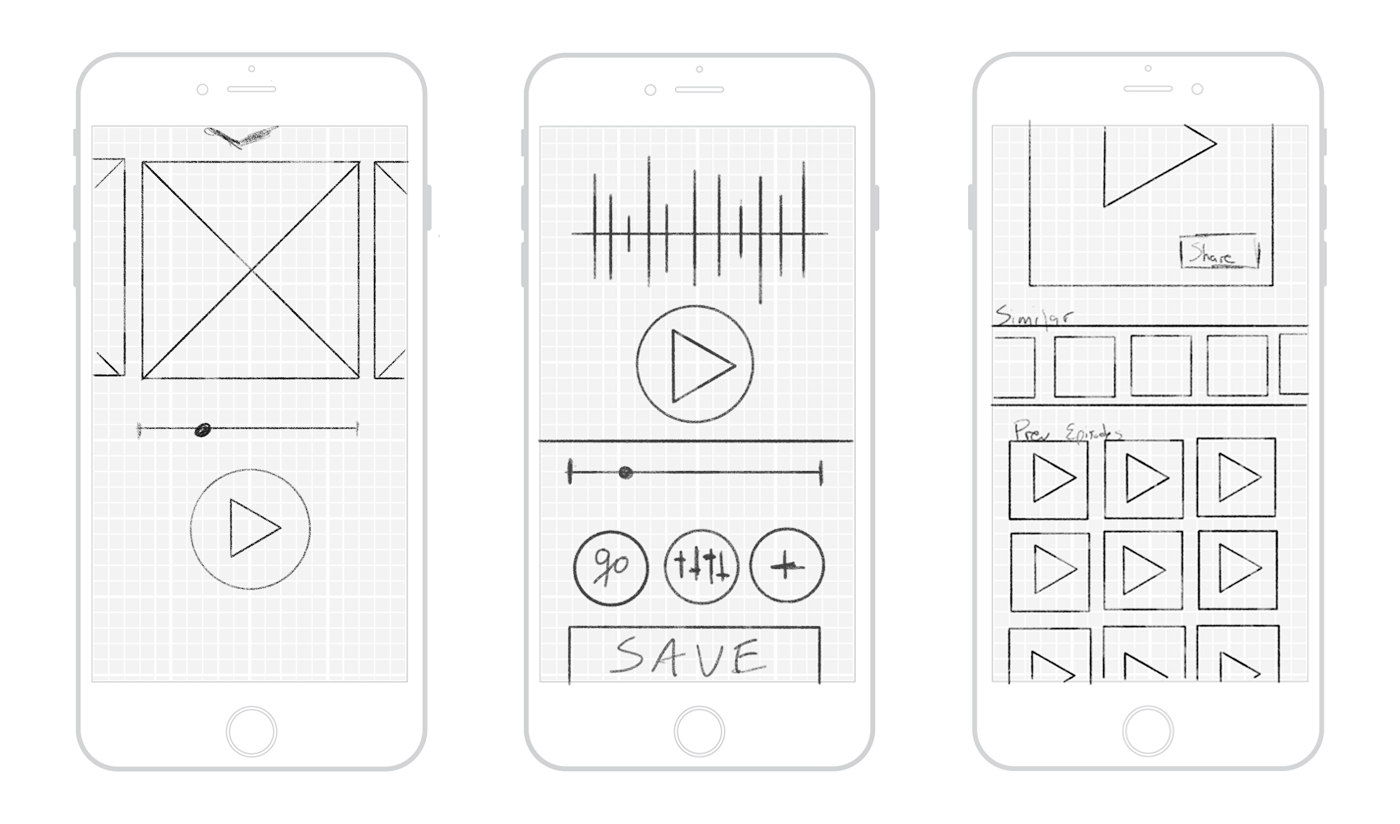 Wireframes
Adobe has really stepped up their mobile app offerings. Using both Adobe Sketch and Adobe Comp, I was able to translate ideas quickly from sketch to wireframe.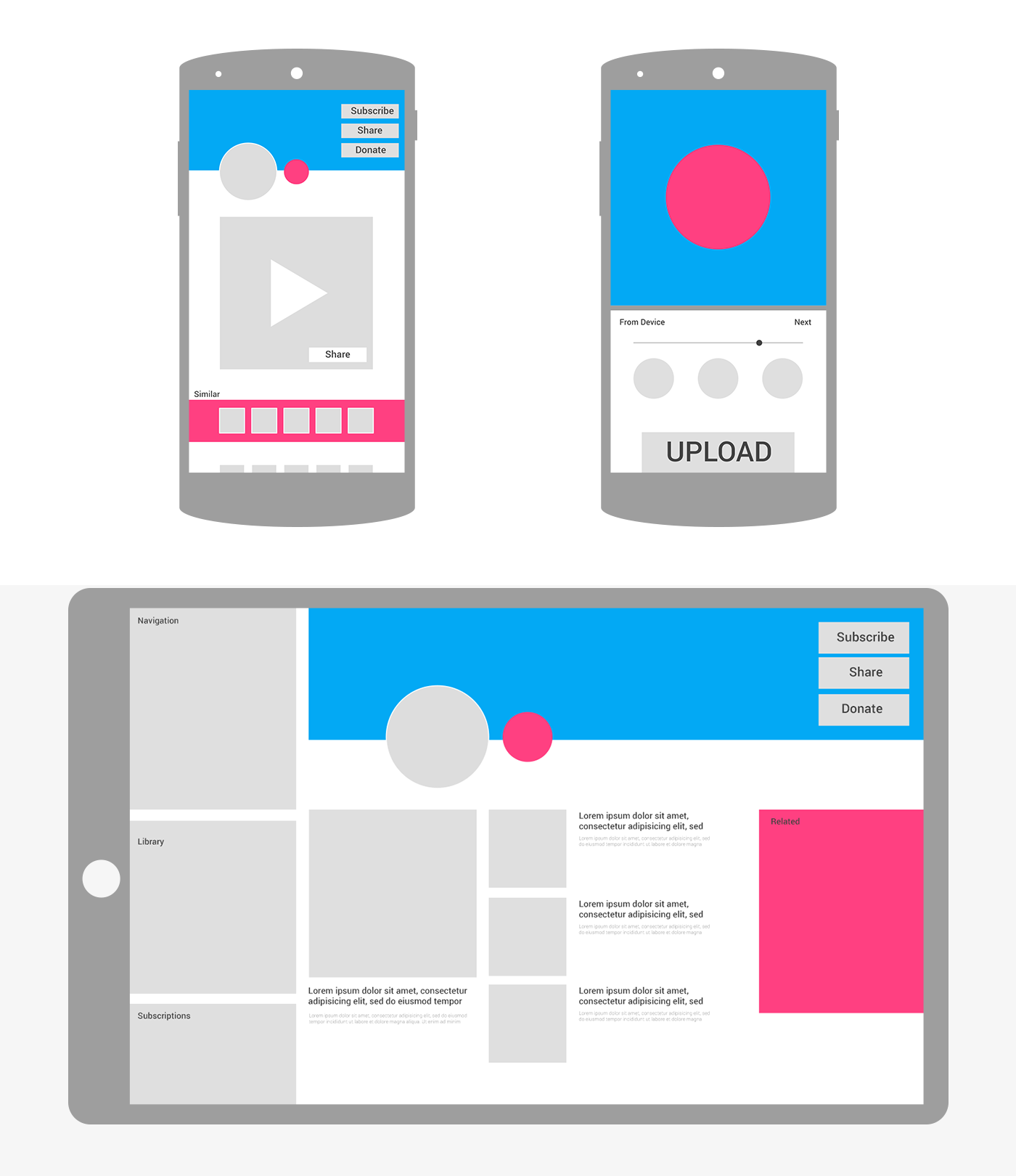 Prototyping
Prototyping in Marvel IMMEDIATELY revealed flaws in our design; both in user flow and feature offerings. One glaring flaw was an inconsistency in navigation. Fixing that really helped everything gel together.
Elements
After analyzing our research, there were a few key elements we wanted to focus on: 
Analytics
Easily one of Google's best features. Giving creators the tools necessary to see what is working and what is not is key to their success. While there are other options for this, Google has a strong track record which helps the customer perceive it's great value.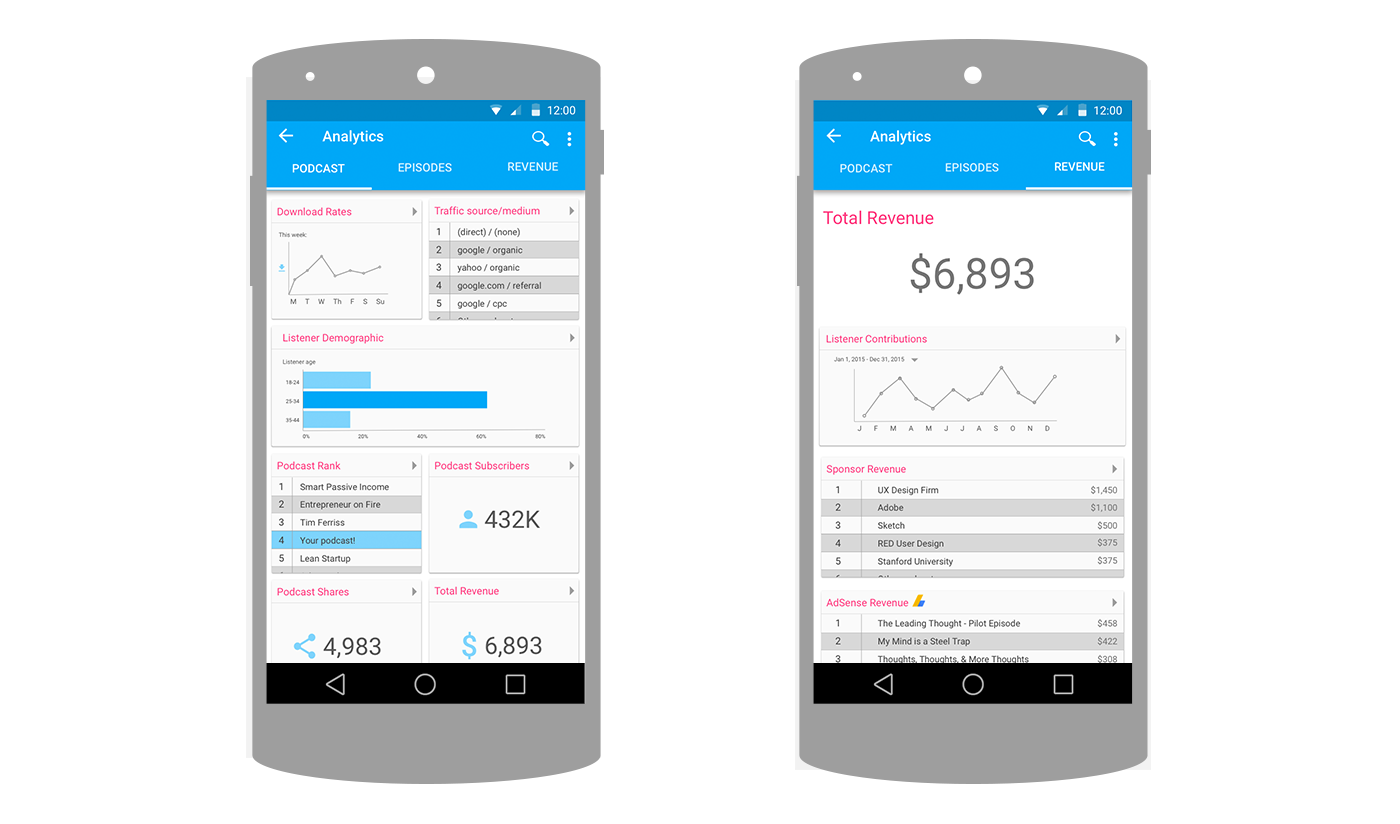 Promotions
Giving the tools to easily promote either a podcast channel or specific episode is an easy way for the creator to gather a stronger listener base. Google also benefits by creating a stream of revenue. This is where the needs of both parties are met.
Content Management
Being able to control content helps the creator prioritize what needs to be done. Here they can see what worked and what didn't for each episode by seeing both promotion and analytic statistics.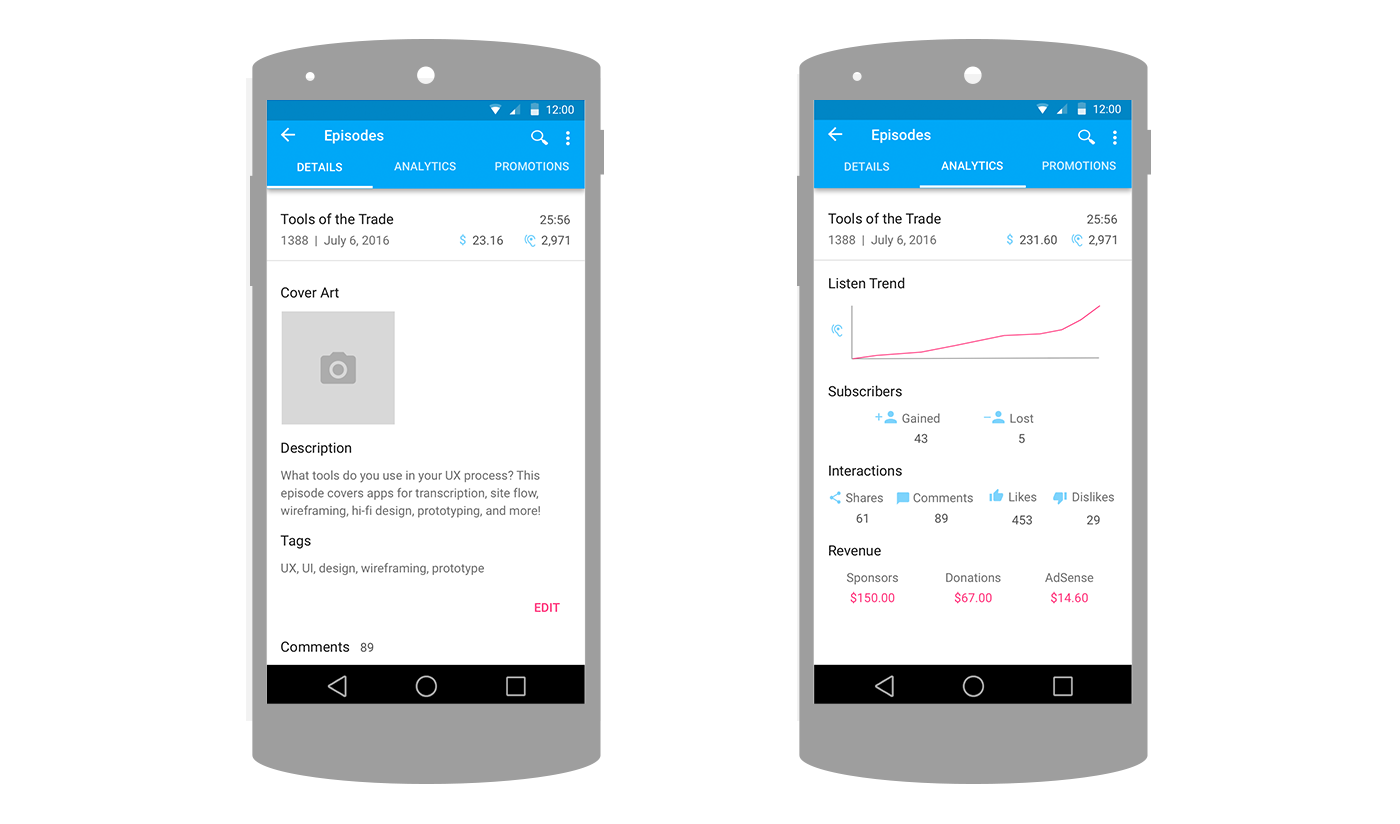 Notifications
Actively engaging with their audience is imperative for a content creator. It's also a great way to react to criticism get a general pulse of what's happening with the listeners.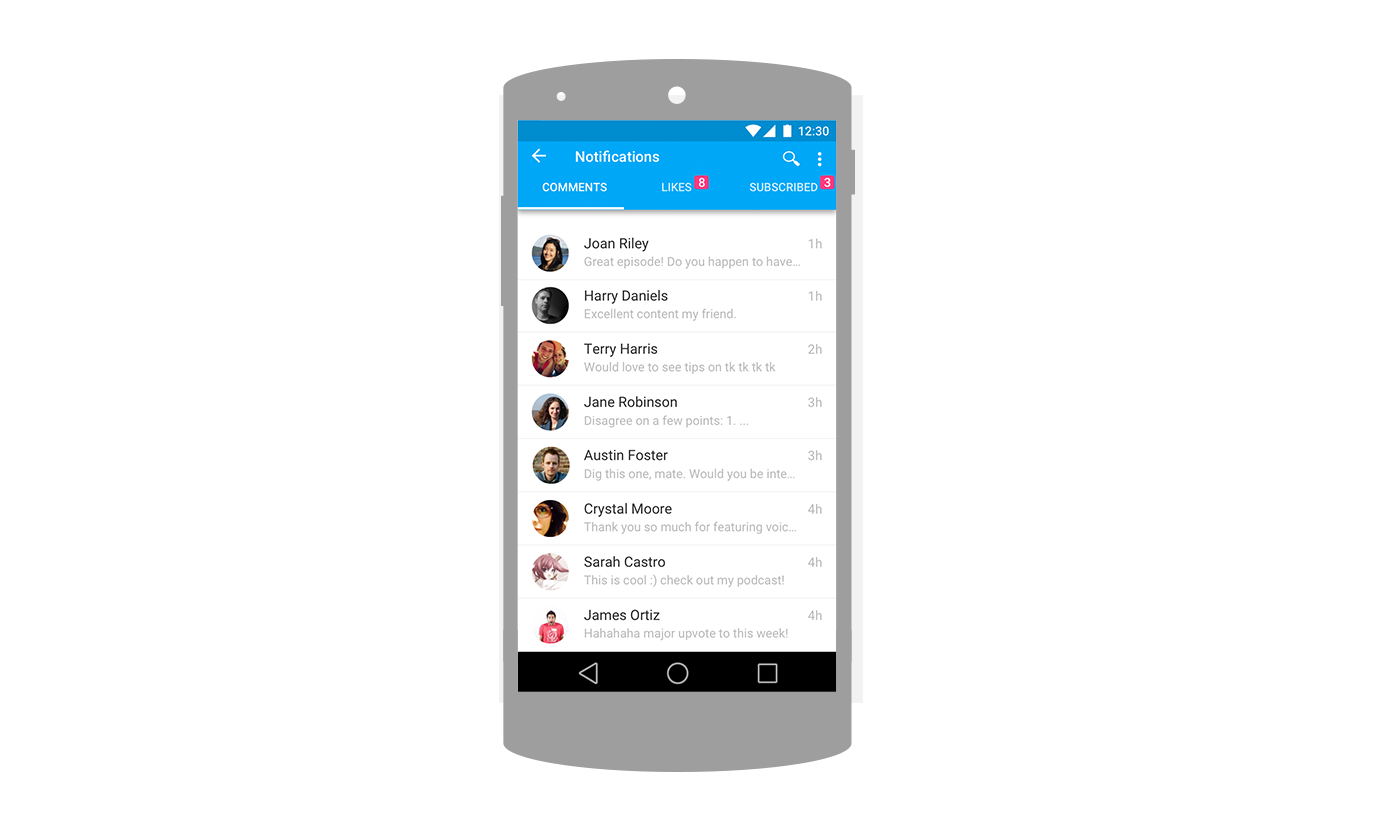 Google Material
OK. Can I tell you how much I love Google Material? I can? Thanks.
I freaking love it.
Becoming familiar with Google Material not only made me a better designer, but a better person in general. I love how clean and familiar it is. I love how easy it is to work with. And I especially love how happy it all looks.
Okay, swooning over.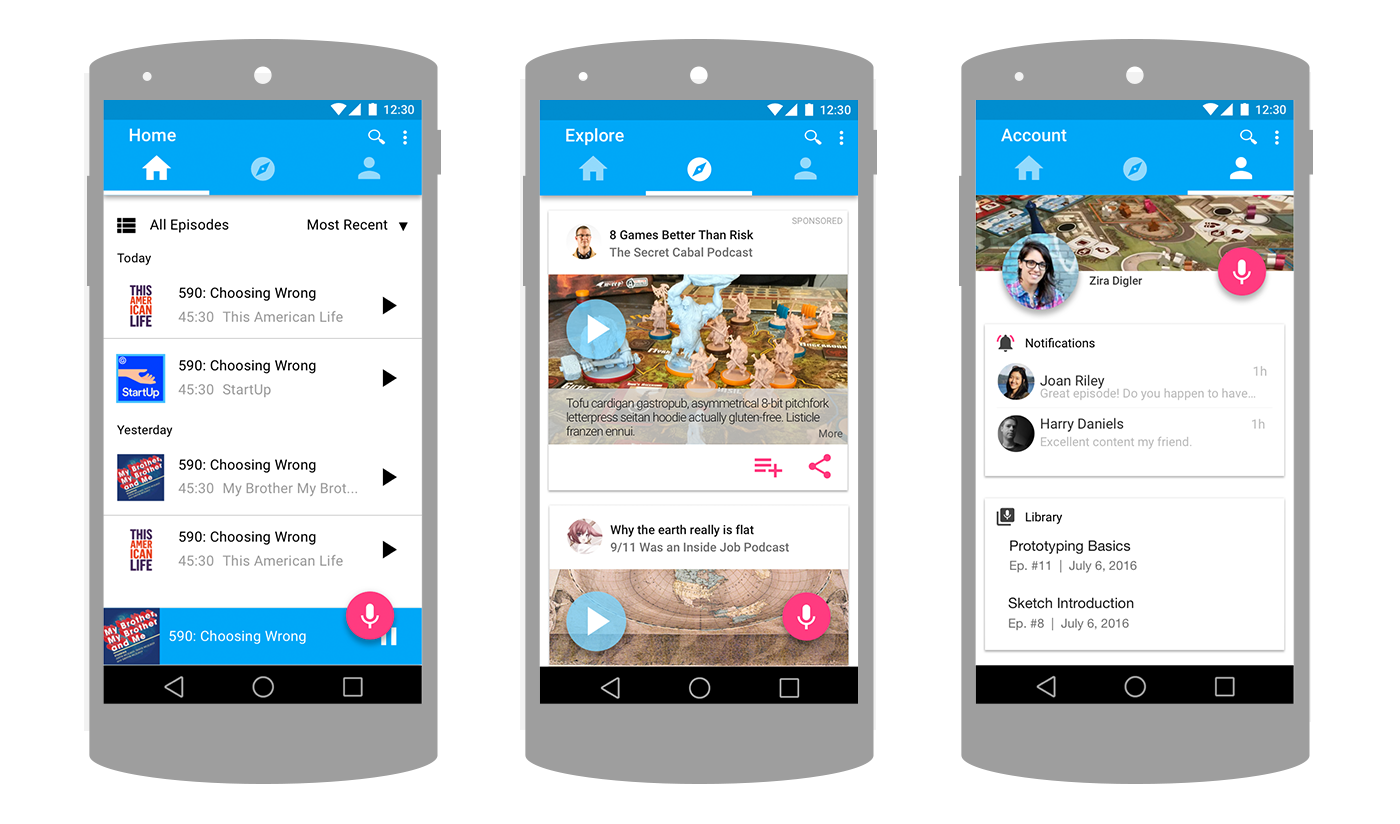 UX Debt
This was a whirlwind of a group project. We had two weeks from conception to execution. This did teach us a lot of valuable lessons, however. There are definitely ways this app could improve.
Notification Management - How would the app handle thousands of notifications on a popular podcast?
Flow - There are still some elements that could flow better. As of now, there are two ways to get to episode-specific analytics which seems redundant.
Google Material - Despite being infatuated with Google Material, there are still elements that could have conformed to it a bit better.
While this app was focused more on the content creators, it would have been nice to flesh out the consumer side a bit more.